Oil Plug EZ Drain Kit | 14x1.5
$52.90 CAD
SKU: EZ_Oil_Drain_Plug_VW-Audi EZ Drain
Secure 
Payment Processing
EZ_Oil_Drain_Plug_VW-Audi
Changing your oil is now easy with the EZ Oil Drain Valve!
Simply install this valve and drain your engine oil without the need for any tools and without creating a mess. Lift the lever of this nickel-plated brass ball valve and give it a quarter turn to open. To close, return the lever back to its original locked position.
The ball valve design allows a straight flow for fast drainage and a flawless seal when locked closed, double sealed for guaranteed leak proof operation.
Reduce maintenance costs with the EZ Oil Drain Valve.
- ELIMINATE FROZEN DRAIN PLUGS AND STRIPPED THREADS
- PREVENT ENGINE DAMAGE FROM ROUTINE OIL ANALYSIS
- LESS DOWN TIME AND OPERATING EXPENSES
EASY INSTALLATION
How to install:
1. Remove drain plug and drain oil
2. Hand install the valve until tight, and give 1/8 turn with a small crescent wrench on the body. DO NOT OVER-TIGHTEN!
3. Close the lever and refill with engine oil

How to Drain Oil:
1. Lift up the lever and turn counter-clockwise.
2. Turn back the lever to close.
3. Make sure the lever is fully-closed and secured in its locked position.

FITS most all 2000-up VW/Audi with 14x1.5 oil drain plug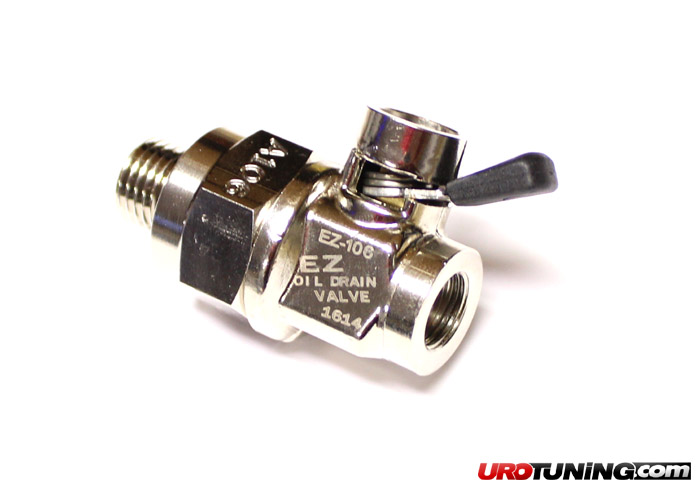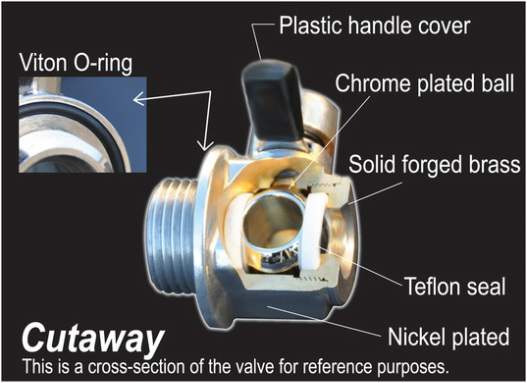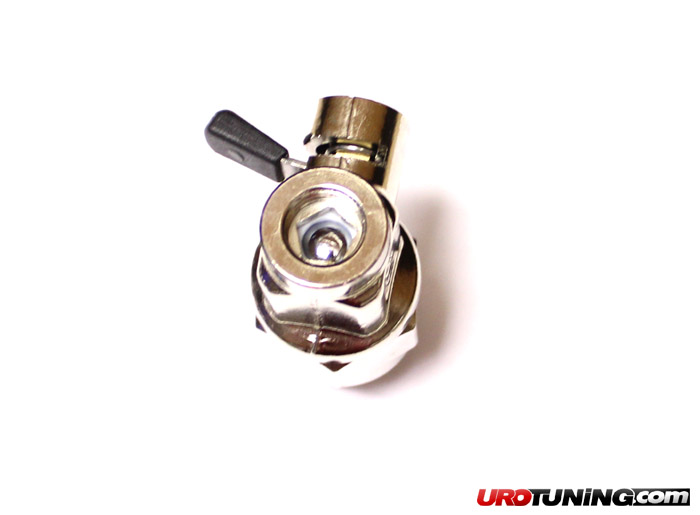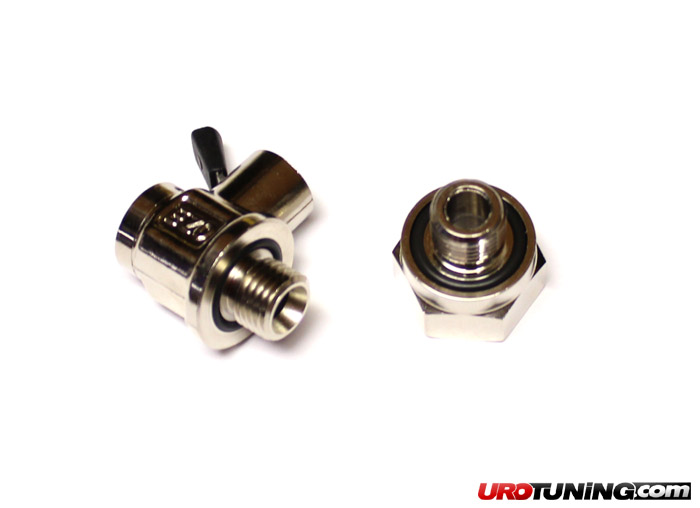 (**Adapter is 
included
 for recessed oil pans.)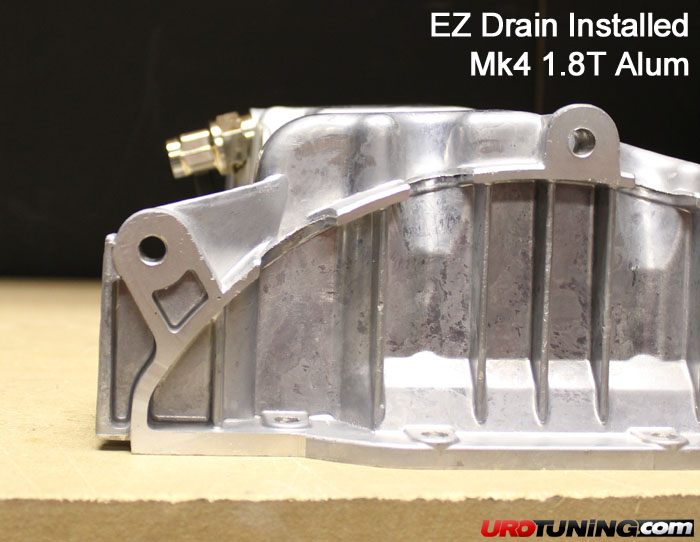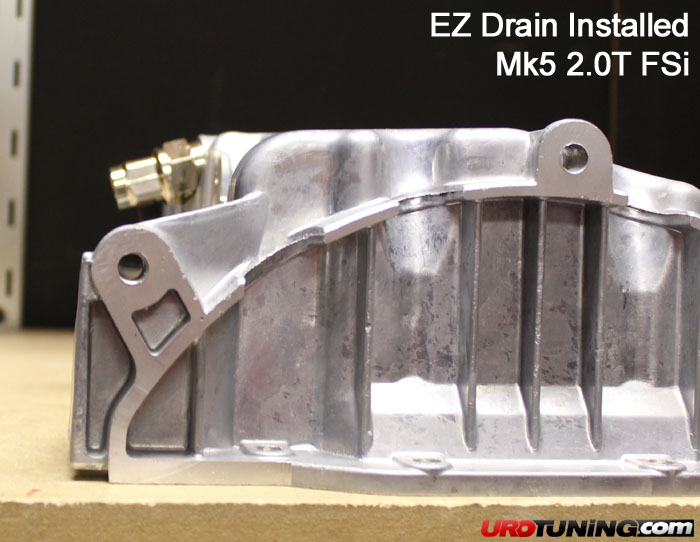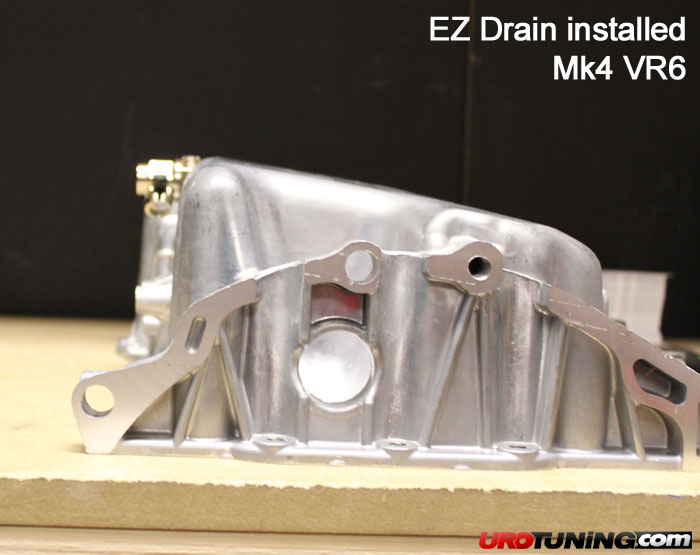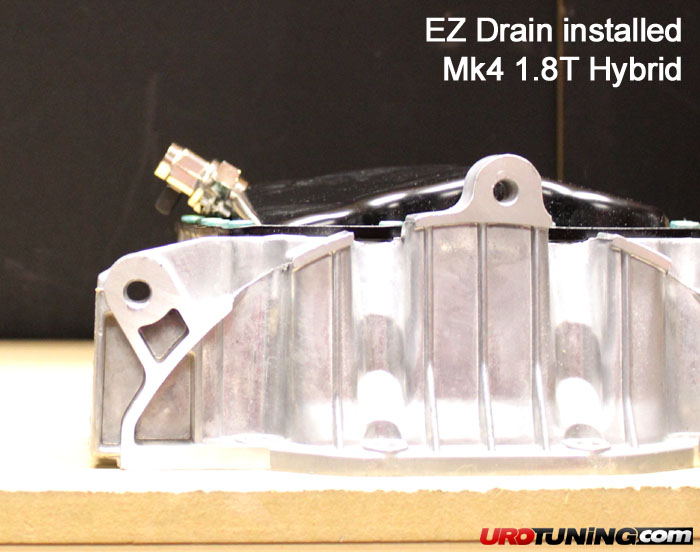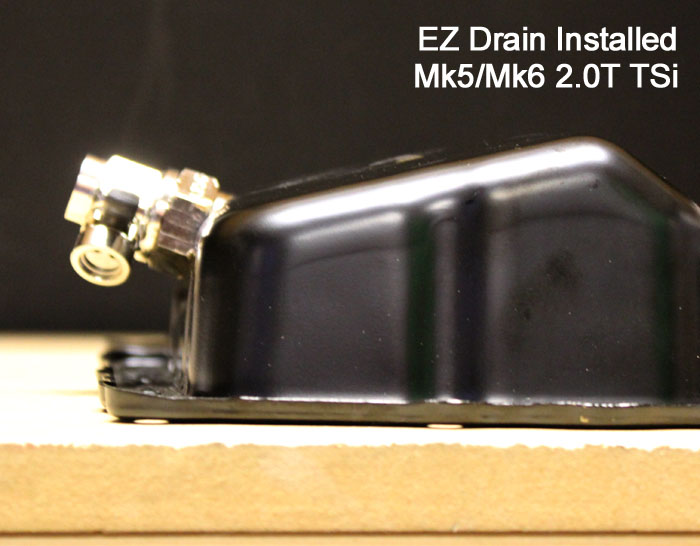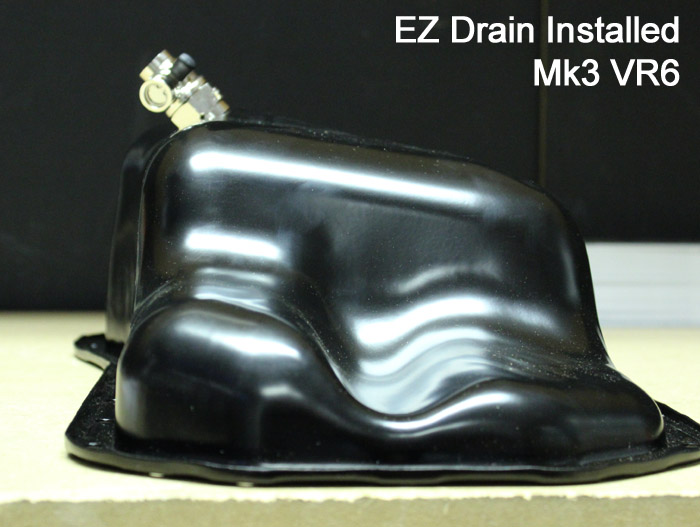 This Part Fits The Following Vehicles
MAKE
MODEL
SUBMODEL
ENGINE
DRIVETRAIN
Audi
A3 8P (2005-2013)
2.0T FSI (2006-2008)
FWD
Audi
A3 8P (2005-2013)
2.0T FSI (2006-2008)
Quattro
Audi
A3 8P (2005-2013)
3.2L VR6
Audi
A3 8P (2005-2013)
2.0T TSI (2008.5+)
FWD
Audi
A3 8P (2005-2013)
2.0T TSI (2008.5+)
Quattro
Audi
A3 8P (2005-2013)
TDi
Audi
A4 B5 (1996-2001)
12v V6
FWD
Audi
A4 B5 (1996-2001)
12v V6
Quattro
Audi
A4 B5 (1996-2001)
1.8T
FWD
Audi
A4 B5 (1996-2001)
1.8T
Quattro
Audi
A4 B5 (1996-2001)
30v V6
FWD
Audi
A4 B5 (1996-2001)
30v V6
Quattro
Audi
A4 B6 (2002-2005)
1.8T
FWD
Audi
A4 B6 (2002-2005)
1.8T
Quattro
Audi
A4 B6 (2002-2005)
30v V6
FWD
Audi
A4 B6 (2002-2005)
30v V6
Quattro
Audi
A4 B7 (2005-2008)
2.0T
FWD
Audi
A4 B7 (2005-2008)
2.0T
Quattro
Audi
A4 B7 (2005-2008)
3.2L V6
Audi
A4 B8 (2009-2016)
3.2L V6
Audi
A4 B8 (2009-2016)
2.0T
FWD
Audi
A4 B8 (2009-2016)
2.0T
Quattro
Audi
A5 B8 (2008-2016)
3.2L V6
Audi
A5 B8 (2008-2016)
2.0T
Audi
S4 B5 (1999-2002)
2.7T
Audi
S4 B6 (2003-2005)
4.2L V8
Audi
TT Mk1 (1998-2007)
1.8T 180HP
FWD
Audi
TT Mk1 (1998-2007)
1.8T 180HP
Quattro
Audi
TT Mk1 (1998-2007)
1.8T 225HP
Audi
TT Mk1 (1998-2007)
3.2L VR6
Audi
TT Mk2 (2008-2015)
2.0T FSI
FWD
Audi
TT Mk2 (2008-2015)
3.2L VR6
Audi
TT Mk2 (2008-2015)
2.0T TSI
FWD
Audi
TT Mk2 (2008-2015)
2.0T TSI
Quattro
Volkswagen
CC (2009-2017)
2.0T
Volkswagen
CC (2009-2017)
3.6L V6
4Motion
Volkswagen
CC (2009-2017)
3.6L V6
FWD
Volkswagen
Mk3 (1994-1999)
Golf
2.0L
Volkswagen
Mk3 (1994-1999)
Golf
TDi
Volkswagen
Mk3 (1994-1999)
GTI
VR6
Volkswagen
Mk3 (1994-1999)
Jetta
2.0L
Volkswagen
Mk3 (1994-1999)
Jetta
TDi
Volkswagen
Mk3 (1994-1999)
Jetta
VR6 12v
Volkswagen
Mk4 (1999.5-2005)
337/20th
1.8T
Volkswagen
Mk4 (1999.5-2005)
GTI
1.8T
Volkswagen
Mk4 (1999.5-2005)
Golf
2.0L
Volkswagen
Mk4 (1999.5-2005)
Golf
TDi
Volkswagen
Mk4 (1999.5-2005)
GTI
12v VR6
Volkswagen
Mk4 (1999.5-2005)
GTI
24v VR6 (2002+)
Volkswagen
Mk4 (1999.5-2005)
Jetta
12v VR6
Volkswagen
Mk4 (1999.5-2005)
Jetta
1.8T
Volkswagen
Mk4 (1999.5-2005)
Jetta
2.0L
Volkswagen
Mk4 (1999.5-2005)
Jetta
TDi
Volkswagen
Mk4 (1999.5-2005)
Jetta
24v VR6 (2002+)
Volkswagen
Mk4 (1999.5-2005)
GLI
1.8T
Volkswagen
Mk4 Golf R32 (2004)
3.2L VR6
Volkswagen
Mk5 (2006-2009)
GTI
2.0T FSI (2006-2008)
Volkswagen
Mk5 (2006-2009)
GTI
2.0T TSI (2008.5+)
Volkswagen
Mk5 (2006-2009)
Rabbit
2.5L
Volkswagen
Mk5 (2006-2010)
Jetta
2.5L
Volkswagen
Mk5 (2006-2010)
Jetta
TDi
Volkswagen
Mk5 (2006-2010)
Jetta
2.0T TSI (2008.5+)
Volkswagen
Mk5 (2006-2010)
GLI
2.0T FSI (2006-2008)
Volkswagen
Mk5 (2006-2010)
GLI
2.0T TSI (2008.5+)
Volkswagen
Mk5 Golf R32 (2008)
3.2L VR6
Volkswagen
Mk6 (2010-2014)
Golf
2.5L
Volkswagen
Mk6 (2010-2014)
Golf
TDi
Volkswagen
Mk6 (2010-2014)
GTI
2.0T
Volkswagen
Mk6 (2011-2014)
Jetta
2.0L 8V
Volkswagen
Mk6 (2011-2014)
Jetta
2.5L
Volkswagen
Mk6 (2011-2014)
Jetta
TDi
Volkswagen
Mk6 (2011-2014)
Jetta
1.8T Gen3
Volkswagen
Mk6 (2011-2014)
GLI
2.0T GLI (2012-2013)
Volkswagen
Mk6 (2011-2014)
GLI
2.0T Gen 3 GLI (2014+)
Volkswagen
Mk6 (2011-2014)
Jetta Sportswagen
2.5L
Volkswagen
Mk6 (2011-2014)
Jetta Sportswagen
TDi
Volkswagen
Mk6 Golf R (2012-2013)
2.0T
Volkswagen
Mk6.5 (2015-2018)
Jetta
2.0L
Volkswagen
Mk6.5 (2015-2018)
Jetta
TDI
Volkswagen
Mk6.5 (2015-2018)
Jetta
1.8T Gen 3
Volkswagen
Mk6.5 (2015-2018)
GLI
2.0T Gen 3 GLI
Volkswagen
Passat B5 (1998-2005)
1.8T
4Motion
Volkswagen
Passat B5 (1998-2005)
1.8T
FWD
Volkswagen
Passat B5 (1998-2005)
TDi
Volkswagen
Passat B5 (1998-2005)
V6 30v
4Motion
Volkswagen
Passat B5 (1998-2005)
V6 30v
FWD
Volkswagen
Passat B5 (1998-2005)
W8
Volkswagen
Passat B6 (2006-2010)
2.0T
Volkswagen
Passat B6 (2006-2010)
3.6L VR6
4Motion
Volkswagen
Passat B6 (2006-2010)
3.6L VR6
FWD
Volkswagen
Passat B7 (2012-2019)
2.5L
Volkswagen
Passat B7 (2012-2019)
TDi
Volkswagen
Passat B7 (2012-2019)
3.6L VR6
Volkswagen
Passat B7 (2012-2019)
1.8T Gen 3
Volkswagen
Passat B7 (2012-2019)
2.0T Gen 3