OBDeleven PRO Scan Tool For Android
$129.99 CAD
SKU: OBD11-00010 OBDeleven
Secure 
Payment Processing
OBD11-00010
Includes activation code for PRO Version!

OBDeleven Diagnostic Scan PRO Tool
This easy to use OBD plug and play diagnostic tool is the perfect alternative to a more expensive tool. Using an Android device, this kit allows you to read codes, clear service lights, control units, code LED lights, check engine light clearing and much more. Download the app from the Google Play, plug in the OBD and you're ready to go. This kit has the PRO license included to allow you to take advantage of all the features OBDeleven has to offer.
Application
OBDeleven application works with phones and tablets with Android version 4.1 and later. The system is using online databases so it requires good internet connection for fast and smooth work.
APPS (one click functions)
Apps are one click functions for daily users which doesn't require any additional knowledge about vehicle programming. More than 500 different APPS are available for various vehicles. By using these functions you can simply:
Perform service functions (Oil service reset, Brake pads replacement, etc.)
Adjust car lights (Daytime running lights, Cornering lights, etc.)
Control comfort system settings (Door autolock, Comfort window closing/opening, etc.)
Activate functions after retrofits (LED license plate lights, Washer fluid level sensor, etc.)
Activate cool visual features (Needle sweep, Optical parking system, etc.)
Add more features (Lap timer, Multimedia engineering menu, etc.)
Disable unwanted functions (Sound actor, Seatbelt warning, etc.)
Use OBDeleven application to check full list of supported APPS
Apps always uses credits even with PRO version.
PRO App Features (Activation Code Included)
These functions requires advanced knowledge about vehicle programming and are recommended for professional use.
Automatic vehicle identification from VIN (Vehicle identification number)
Read and clear diagnostic trouble codes from all control units that is installed in your car (i.e. Engine, Transmission, ABS, Airbag, Multimedia, Air conditioning, etc.)
Multilanguage database
Read information about control unit (i.e. Part number, Software number, Coding, etc.)
Diagnostic data log sharing via email
Battery status
Connected cars history
Gauges
Engine, Equipment and Fault code lookups
DIY manuals
Trouble code Freeze frame
Advanced control unit information
Live data
Charts
Coding
Coding II
Long coding
Sub control units Information
Sub control units coding
Gateway installation list
Adaptation
Long adaptation
Basic settings
Output test
Security access
Login finder
Control unit reset (UDS)
Diagnostic service change
Control unit Backup
Control unit programming history
CAR programming history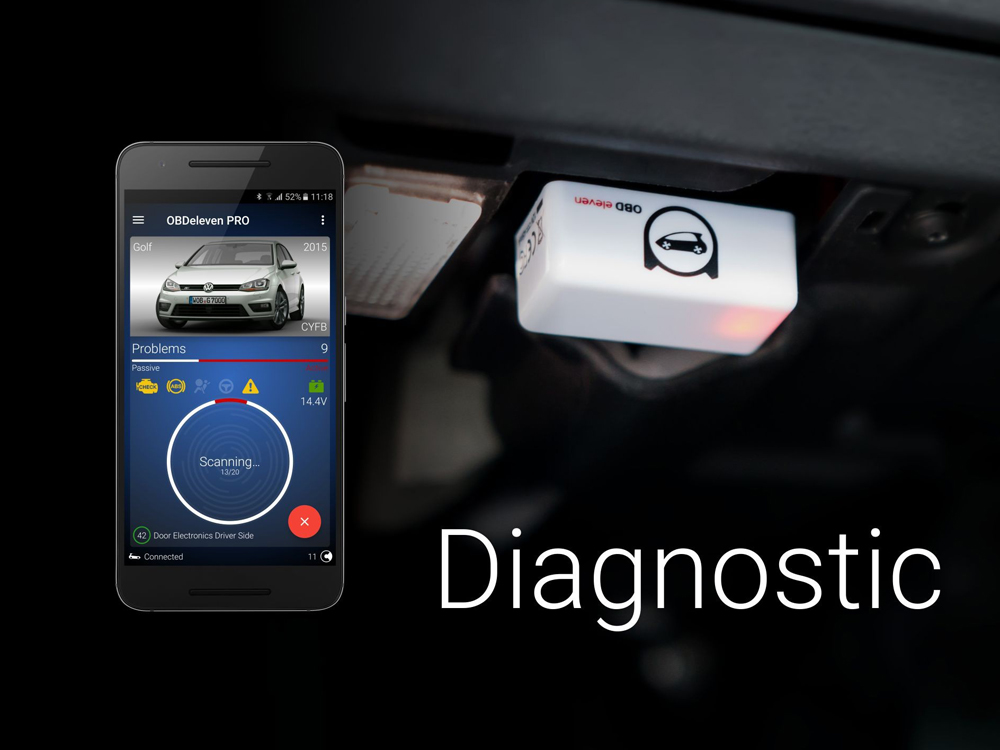 This Part Fits The Following Vehicles
MAKE
MODEL
SUBMODEL
ENGINE
DRIVETRAIN
Audi
8U Q3 (2015-2018)
2.0T
FWD
Audi
8U Q3 (2015-2018)
2.0T
Quattro
Audi
A3 8P (2005-2013)
2.0T FSI (2006-2008)
FWD
Audi
A3 8P (2005-2013)
2.0T FSI (2006-2008)
Quattro
Audi
A3 8P (2005-2013)
3.2L VR6
Audi
A3 8P (2005-2013)
2.0T TSI (2008.5+)
FWD
Audi
A3 8P (2005-2013)
2.0T TSI (2008.5+)
Quattro
Audi
A3 8P (2005-2013)
TDi
Audi
A3 8V Sedan (2014-2020)
TDi
Audi
A3 8V Sedan (2014-2020)
1.8T
Audi
A3 8V Sedan (2014-2020)
2.0T
FWD
Audi
A3 8V Sedan (2014-2020)
2.0T
Quattro
Audi
A4 B5 (1996-2001)
12v V6
FWD
Audi
A4 B5 (1996-2001)
12v V6
Quattro
Audi
A4 B5 (1996-2001)
1.8T
FWD
Audi
A4 B5 (1996-2001)
1.8T
Quattro
Audi
A4 B5 (1996-2001)
30v V6
FWD
Audi
A4 B5 (1996-2001)
30v V6
Quattro
Audi
A4 B6 (2002-2005)
1.8T
FWD
Audi
A4 B6 (2002-2005)
1.8T
Quattro
Audi
A4 B6 (2002-2005)
30v V6
FWD
Audi
A4 B6 (2002-2005)
30v V6
Quattro
Audi
A4 B7 (2005-2008)
2.0T
FWD
Audi
A4 B7 (2005-2008)
2.0T
Quattro
Audi
A4 B7 (2005-2008)
3.2L V6
Audi
A4 B8 (2009-2016)
3.2L V6
Audi
A4 B8 (2009-2016)
2.0T
FWD
Audi
A4 B8 (2009-2016)
2.0T
Quattro
Audi
A4 B9 (2017-2019)
2.0T
FWD
Audi
A4 B9 (2017-2019)
2.0T
Quattro
Audi
A4 B9.5 (2020+)
2.0T
FWD
Audi
A4 B9.5 (2020+)
2.0T
Quattro
Audi
A5 B8 (2008-2016)
3.2L V6
Audi
A5 B8 (2008-2016)
2.0T
Audi
A5 B9 (2017-2019)
Coupe
2.0T
Audi
A5 B9 (2017-2019)
Sportback
2.0T
Audi
A5 B9.5 (2020+)
Coupe
2.0T
Audi
A6 C5 (1998-2004)
2.8L V6
FWD
Audi
A6 C5 (1998-2004)
2.8L V6
Quattro
Audi
A6 C5 (1998-2004)
2.7T
Audi
A6 C5 (1998-2004)
4.2L V8
Audi
A6 C5 (1998-2004)
3.0L V6
FWD
Audi
A6 C5 (1998-2004)
3.0L V6
Quattro
Audi
A6 C6 (2005-2011)
3.2L V6
FWD
Audi
A6 C6 (2005-2011)
3.2L V6
Quattro
Audi
A6 C6 (2005-2011)
4.2L V8
Audi
A6 C6 (2005-2011)
3.0T V6
Audi
A6 C7 (2012-2018)
2.0T
FWD
Audi
A6 C7 (2012-2018)
3.0T V6
Quattro
Audi
A6 C7 (2012-2018)
2.0T
Quattro
Audi
A6 C7 (2012-2018)
TDi
Audi
A6 C8 (2019+)
2.0T
Audi
A6 C8 (2019+)
3.0T
Audi
A7 C7 (2012-2018)
3.0T V6
Audi
A7 C7 (2012-2018)
TDi
Audi
A8 D2 (1997-2002)
3.7L V8
Audi
A8 D2 (1997-2002)
4.2L V8
Audi
A8 D3 (2003-2010)
4.2L V8
Audi
A8 D3 (2003-2010)
W12
Audi
A8 D4 (2011-2017)
4.2L V8
Audi
A8 D4 (2011-2017)
W12
Audi
A8 D4 (2011-2017)
3.0T V6
Audi
A8 D4 (2011-2017)
4.0T V8
Audi
A8 D4 (2011-2017)
3.0L Tdi
Audi
Allroad B8 (2012-2015)
2.0T
Audi
Allroad B9 (2016+)
2.0T
Audi
Allroad C5 (2001-2005)
2.7T
Audi
Allroad C5 (2001-2005)
4.2L V8
Audi
F3 Q3 (2019+)
2.0T
Quattro
Audi
Q5 B8 (2009-2017)
3.2L V6
Audi
Q5 B8 (2009-2017)
2.0T
Audi
Q5 B8 (2009-2017)
3.0T V6
Audi
Q5 B8 (2009-2017)
TDi
Audi
Q5 B9 (2018+)
2.0T
Audi
Q7 4L (2007-2015)
3.6L V6
Audi
Q7 4L (2007-2015)
V8
Audi
Q7 4L (2007-2015)
TDi
Audi
Q7 4L (2007-2015)
3.0T
Audi
Q7 4M (2017+)
3.0T
Audi
Q8 4M (2017+)
3.0T
Quattro
Audi
R8 Mk1 (2007-2015)
4.2L V8
Audi
R8 Mk1 (2007-2015)
5.2L V10
Audi
R8 Mk2 (2016+)
5.2 V10
Audi
R8 Mk2 (2016+)
V10 Plus
Audi
RS3 8V Sedan (2017-2020)
2.5T
Audi
RS4 B7 (2007-2008)
4.2L V8
Audi
RS5 B8 (2013-2015)
4.2L V8
Audi
RS5 B9 (2018+)
Coupe
2.9T
Audi
RS5 B9 (2019+)
Sportback
2.9T
Audi
RS6 C5 (2003-2004)
4.2T
Audi
RS7 C7 (2013-2019)
4.0T V8
Audi
S3 8V Sedan (2015-2020)
2.0T
Audi
S4 B5 (1999-2002)
2.7T
Audi
S4 B6 (2003-2005)
4.2L V8
Audi
S4 B7 (2005.5-2008)
4.2L V8
Audi
S4 B8 (2009-2016)
3.0T
Audi
S4 B9 (2017-2019)
3.0T
Audi
S5 B8 (2009-2016)
4.2L V8
Audi
S5 B8 (2009-2016)
3.0T
Audi
S5 B9 (2018-2019)
Coupe
3.0T
Audi
S5 B9 (2018-2019)
Sportback
3.0T
Audi
S6 C5 (2001-2003)
4.2L V8
Audi
S6 C6 (2006-2011)
5.2L V10
Audi
S6 C7 (2012-2018)
4.0T V8
Audi
S7 C7 (2012-2018)
4.0T V8
Audi
S8 D2 (2001-2003)
4.2L V8
Audi
S8 D3 (2006-2009)
5.2L V10
Audi
S8 D4 (2012-2017)
4.0T V8
Audi
S8 D5 (2020+)
4.0T V8
Audi
SQ5 B8 (2014-2017)
3.0T
Audi
SQ5 B9 (2018+)
3.0T
Audi
TT Mk1 (1998-2007)
1.8T 180HP
FWD
Audi
TT Mk1 (1998-2007)
1.8T 180HP
Quattro
Audi
TT Mk1 (1998-2007)
1.8T 225HP
Audi
TT Mk1 (1998-2007)
3.2L VR6
Audi
TT Mk2 (2008-2015)
2.0T FSI
FWD
Audi
TT Mk2 (2008-2015)
3.2L VR6
Audi
TT Mk2 (2008-2015)
2.0T TSI
FWD
Audi
TT Mk2 (2008-2015)
2.0T TSI
Quattro
Audi
TT Mk3 (2016+)
2.0T
Audi
TT-RS Mk2 (2012-2013)
2.5T
Audi
TT-RS Mk3 (2018+)
2.5T
Audi
TT-S Mk2 (2009-2015)
2.0T
Audi
TT-S Mk3 (2016+)
2.0T
Volkswagen
Alltrack Mk7 (2017-2019)
1.8T
Volkswagen
Arteon 2019+
2.0T
4Motion
Volkswagen
Arteon 2019+
2.0T
FWD
Volkswagen
Atlas 2018+
2.0T Gen 3
4Motion
Volkswagen
Atlas 2018+
2.0T Gen 3
FWD
Volkswagen
Atlas 2018+
3.6L V6
FWD
Volkswagen
Atlas Cross Sport 2020+
2.0T Gen 3
4Motion
Volkswagen
Atlas Cross Sport 2020+
2.0T Gen 3
FWD
Volkswagen
Atlas Cross Sport 2020+
3.6L V6
4Motion
Volkswagen
Atlas Cross Sport 2020+
3.6L V6
FWD
Volkswagen
Beetle (2012-2019)
2.0T
Volkswagen
Beetle (2012-2019)
2.5L
Volkswagen
Beetle (2012-2019)
TDi
Volkswagen
Beetle (2012-2019)
1.8T Gen 3
Volkswagen
Beetle (2012-2019)
2.0T Gen 3
Volkswagen
CC (2009-2017)
2.0T
Volkswagen
CC (2009-2017)
3.6L V6
4Motion
Volkswagen
CC (2009-2017)
3.6L V6
FWD
Volkswagen
EOS (2007-2015)
3.2L VR6
Volkswagen
EOS (2007-2015)
2.0T
Volkswagen
Mk4 (1999.5-2005)
337/20th
1.8T
Volkswagen
Mk4 (1999.5-2005)
GTI
1.8T
Volkswagen
Mk4 (1999.5-2005)
Golf
2.0L
Volkswagen
Mk4 (1999.5-2005)
Golf
TDi
Volkswagen
Mk4 (1999.5-2005)
GTI
12v VR6
Volkswagen
Mk4 (1999.5-2005)
GTI
24v VR6 (2002+)
Volkswagen
Mk4 (1999.5-2005)
Jetta
12v VR6
Volkswagen
Mk4 (1999.5-2005)
Jetta
1.8T
Volkswagen
Mk4 (1999.5-2005)
Jetta
2.0L
Volkswagen
Mk4 (1999.5-2005)
Jetta
TDi
Volkswagen
Mk4 (1999.5-2005)
Jetta
24v VR6 (2002+)
Volkswagen
Mk4 (1999.5-2005)
GLI
1.8T
Volkswagen
Mk4 Golf R32 (2004)
3.2L VR6
Volkswagen
Mk5 (2006-2009)
GTI
2.0T FSI (2006-2008)
Volkswagen
Mk5 (2006-2009)
GTI
2.0T TSI (2008.5+)
Volkswagen
Mk5 (2006-2009)
Rabbit
2.5L
Volkswagen
Mk5 (2006-2010)
Jetta
2.5L
Volkswagen
Mk5 (2006-2010)
Jetta
TDi
Volkswagen
Mk5 (2006-2010)
Jetta
2.0T TSI (2008.5+)
Volkswagen
Mk5 (2006-2010)
GLI
2.0T FSI (2006-2008)
Volkswagen
Mk5 (2006-2010)
GLI
2.0T TSI (2008.5+)
Volkswagen
Mk5 Golf R32 (2008)
3.2L VR6
Volkswagen
Mk6 (2010-2014)
Golf
2.5L
Volkswagen
Mk6 (2010-2014)
Golf
TDi
Volkswagen
Mk6 (2010-2014)
GTI
2.0T
Volkswagen
Mk6 (2011-2014)
Jetta
1.4T Hybrid
Volkswagen
Mk6 (2011-2014)
Jetta
2.0L 8V
Volkswagen
Mk6 (2011-2014)
Jetta
2.5L
Volkswagen
Mk6 (2011-2014)
Jetta
TDi
Volkswagen
Mk6 (2011-2014)
Jetta
1.8T Gen3
Volkswagen
Mk6 (2011-2014)
GLI
2.0T GLI (2012-2013)
Volkswagen
Mk6 (2011-2014)
GLI
2.0T Gen 3 GLI (2014+)
Volkswagen
Mk6 (2011-2014)
Jetta Sportswagen
2.5L
Volkswagen
Mk6 (2011-2014)
Jetta Sportswagen
TDi
Volkswagen
Mk6 Golf R (2012-2013)
2.0T
Volkswagen
Mk6.5 (2015-2018)
Jetta
2.0L
Volkswagen
Mk6.5 (2015-2018)
Jetta
TDI
Volkswagen
Mk6.5 (2015-2018)
Jetta
1.4T
Volkswagen
Mk6.5 (2015-2018)
Jetta
1.8T Gen 3
Volkswagen
Mk6.5 (2015-2018)
GLI
2.0T Gen 3 GLI
Volkswagen
Mk7 (2015-2017)
Golf
TDi
Volkswagen
Mk7 (2015-2017)
Golf
1.8T
Volkswagen
Mk7 (2015-2017)
Sportwagen
TDi
Volkswagen
Mk7 (2015-2017)
Sportwagen
1.8T
Volkswagen
Mk7 (2015-2017)
GTI
2.0T
Volkswagen
Mk7 (2019+)
Jetta
1.4T
Volkswagen
Mk7 (2019+)
GLI
2.0T
Volkswagen
Mk7 Golf R (2015-2017)
2.0T
Volkswagen
Mk7.5 (2018-2021)
Golf
1.8T
Volkswagen
Mk7.5 (2018-2021)
Golf
1.4T
Volkswagen
Mk7.5 (2018-2021)
Sportwagen
1.4T
FWD
Volkswagen
Mk7.5 (2018-2021)
Sportwagen
1.4T
4Motion
Volkswagen
Mk7.5 (2018-2021)
Sportwagen
1.8T
FWD
Volkswagen
Mk7.5 (2018-2021)
Sportwagen
1.8T
4Motion
Volkswagen
Mk7.5 (2018-2021)
GTI
2.0T
Volkswagen
Mk7.5 Golf R (2018-2021)
2.0T
Volkswagen
New Beetle (1998-2010)
2.0L
Volkswagen
New Beetle (1998-2010)
Tdi
Volkswagen
New Beetle (1998-2010)
1.8T
Volkswagen
New Beetle (1998-2010)
2.5L
Volkswagen
Passat B5 (1998-2005)
1.8T
4Motion
Volkswagen
Passat B5 (1998-2005)
1.8T
FWD
Volkswagen
Passat B5 (1998-2005)
TDi
Volkswagen
Passat B5 (1998-2005)
V6 30v
4Motion
Volkswagen
Passat B5 (1998-2005)
V6 30v
FWD
Volkswagen
Passat B5 (1998-2005)
W8
Volkswagen
Passat B6 (2006-2010)
2.0T
Volkswagen
Passat B6 (2006-2010)
3.6L VR6
4Motion
Volkswagen
Passat B6 (2006-2010)
3.6L VR6
FWD
Volkswagen
Passat B7 (2012-2019)
2.5L
Volkswagen
Passat B7 (2012-2019)
TDi
Volkswagen
Passat B7 (2012-2019)
3.6L VR6
Volkswagen
Passat B7 (2012-2019)
1.8T Gen 3
Volkswagen
Passat B7 (2012-2019)
2.0T Gen 3
Volkswagen
Passat B7.5 (2020+)
2.0T
Volkswagen
Tiguan 1 (2009-2011)
2.0T
4Motion
Volkswagen
Tiguan 1 (2009-2011)
2.0T
FWD
Volkswagen
Tiguan 2 (2012-2017)
2.0T
4Motion
Volkswagen
Tiguan 2 (2012-2017)
2.0T
FWD
Volkswagen
Tiguan MQB (2018+)
2.0T Gen 3
4Motion
Volkswagen
Tiguan MQB (2018+)
2.0T Gen 3
FWD
Volkswagen
Touareg 1 (2004-2007)
V10
Volkswagen
Touareg 1 (2004-2007)
V6
Volkswagen
Touareg 1 (2004-2007)
V8
Volkswagen
Touareg 2 (2008-2010)
V10 TDi
Volkswagen
Touareg 2 (2008-2010)
V6
Volkswagen
Touareg 2 (2008-2010)
V6 TDi
Volkswagen
Touareg 2 (2008-2010)
V8
Volkswagen
Touareg 3 (2011-2016)
TDi
Volkswagen
Touareg 3 (2011-2016)
V6
Volkswagen
Touareg 3 (2011-2016)
Hybrid