Solo Werks Coilover System | E36 3-Series Non-M 2wd
$629.99 CAD
SKU: S1BW001 Solo-Werks
Secure 
Payment Processing
MFG# S1BW001
Solo Werks S1 Coilover System - E36 3 Series - Premium Entry Level Coilover Suspension!
Features:
Heavy Gold Zinc Plated Housings for superb corrosion resistance
Large 20mm Damper Shafts
New Progressive elastomer bumpstops
Silver spring perches - double lock ring design
Platform Specific Spring Rates and Matched Valving
Front 40-80mm(1.6-3.1"") Lowering Range
Rear 20-50mm (0.8-2.0") Lowering Range
3 year Limited Warranty
Each Kit Contains:
2x Front threaded coilover dampers (w/ Dual locking ring spring perches)
2x Front Spring (Linear Rate) + 2x helper spring
2x Rear (Twin-Tube Design) dampers
2x Rear adjustable spring perches
2x Rear spring (Progressive rate)
2x Spanner wrenches
Step by Step Installation Instructions
1oz. Bottle Boeshield T-9 Lubricant/Protectant
* A 5mm (min) front wheel spacer may be neccesary depending on wheel size and offset
Application / Fitments:
BMW 92-98 E36 Sedan, Coupe, Convertible All eng.
Does Not Fit XI (AWD) Models
Does Not Fit M Models
*All lowering ranges are approx. and will varying depending on mileage, condition, vehicle options.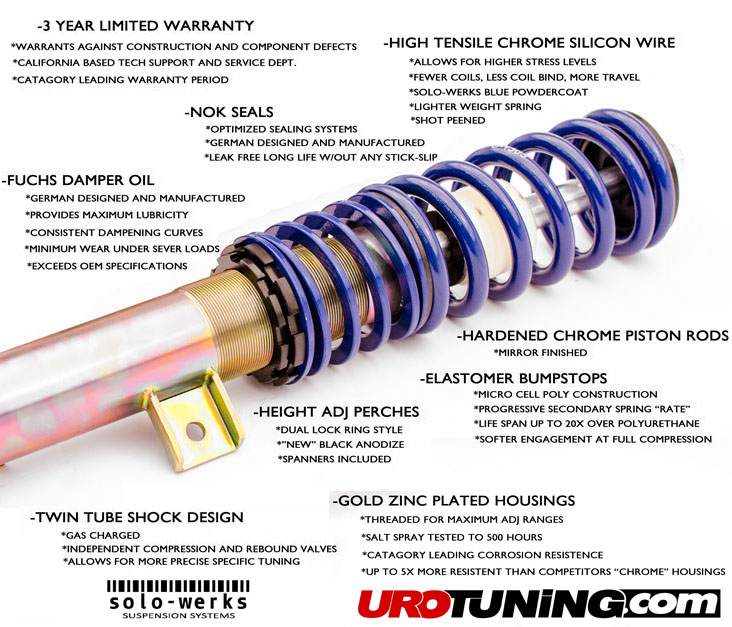 Solo Werks Suspension Systems is a suspension company born from over 10 years of industry experience. Rather than focusing on corporate growth Solo Werks prides themselves on creating great suspension products while keeping their heart in the industry. Solo Werks is dedicated to keeping the true spirit and passion of the automotive industry alive by creating amazing products for enthusiasts around the globe.
This Part Fits The Following Vehicles
MAKE
MODEL
SUBMODEL
ENGINE
DRIVETRAIN
BMW
3 Series E36 (1992-1998)
318ic
M42 1.8L (1992-1995)
BMW
3 Series E36 (1992-1998)
318i
M42 1.8L (1994-1995)
BMW
3 Series E36 (1992-1998)
318is
M42 1.8L (1994-1995)
BMW
3 Series E36 (1992-1998)
318ti
M42 1.8L (1994-1995)
BMW
3 Series E36 (1992-1998)
323ic
M52 2.5L
BMW
3 Series E36 (1992-1998)
323is
M52 2.5L
BMW
3 Series E36 (1992-1998)
325i
M50 2.5L (1992)
BMW
3 Series E36 (1992-1998)
325ic
M50 2.5L
BMW
3 Series E36 (1992-1998)
325is
M50 2.5L (1992)
BMW
3 Series E36 (1992-1998)
328i
M52 2.8L
BMW
3 Series E36 (1992-1998)
328ic
M52 2.8L
BMW
3 Series E36 (1992-1998)
328is
M52 2.8L
BMW
3 Series E36 (1992-1998)
318i
M44 1.9L (1996-1998)
BMW
3 Series E36 (1992-1998)
318is
M44 1.9L (1996-1998)
BMW
3 Series E36 (1992-1998)
318ti
M44 1.9L (1996-1998)